InFamous: Second Son, if anything, is a reminder that games are fun. Having not played InFamous 1, or 2 on PS3, I went into Second Son not quite knowing what I was in for. After about 12 hours of running, gliding, and neoning(?) all over Sucker Punch's Seattle I can confidently answer these questions: Has it revolutionized third person action games? No. Has it taken open world video games to new heights? No. Does its narrative push the boundaries of storytelling in games? Certainly not.  Is it a gorgeous game, with just enough to do and an overwhelming amount of fun to be had? Hell yes.
Infamous Second Son is Sucker Punch's third entry in the series, but is more akin to a reboot than a direct sequel. Second Son recognizes the events of the previous games, but this is about a new protagonist, with new powers, and new motivations. You play as Delsin Rowe, a seeker of mischief and graffiti artist extraordinaire. Delsin and his cop brother Reggie who he aims to find trouble with, live on a reservation in the Northwest, part of the ficticious Okomish tribe.
To briefly set up the story;  Delsin comes into contact with an conduit - InFamous' term for people with superpowers - and learns that he is one of them, able to absorb the powers of any conduit he touches. Shenanigans happen, and a government agency known as the D.U.P. (Department of Unified Protection) shows up, wrecking shop on some tribe members. Delsin decides to travel to Seattle and amend the situation, dragging his brother with him.
Combat in Second Son is its biggest draw, which is a good thing, as the majority of your time in the game will spent blasting at your enemies with various powers. Although each power you attain is different, they all have what boils down to the same moves, with different color palette swap and a few varying qualities. There is a basic projectile, a more powerful missile type of shot, an area of effect move, and a "Karma Bomb", an ultimate attack you can unleash after getting a streak of either kills or non-lethal takedowns.
Your powers are not only a weapon, they are your vehicle. Each power you acquire has its own way of navigating you around the city. Smoke lets you quickly dash forward, through gates or fences, and into vents on the sides of buildings that propel you up onto the roof. Other powers have their own unique way of getting you around the city. If you're anything like me, you'll end up using neon the most, as not only can it be the quickest, it is the best looking.
Whether you are blasting at enemies, or traversing the high rises, the game looks fantastic. Built from the ground up specifically for the PS4, Second Son is a marvel to look at. Often I would find myself reaching the top of a building, only to slowly pan the camera 360 degrees to take in my surroundings. Absorbing powers from their sources is a joy, the animations for each power are done incredibly well (especially neon). The main character models are all done really well, and have the best facial animation I've ever seen in a game.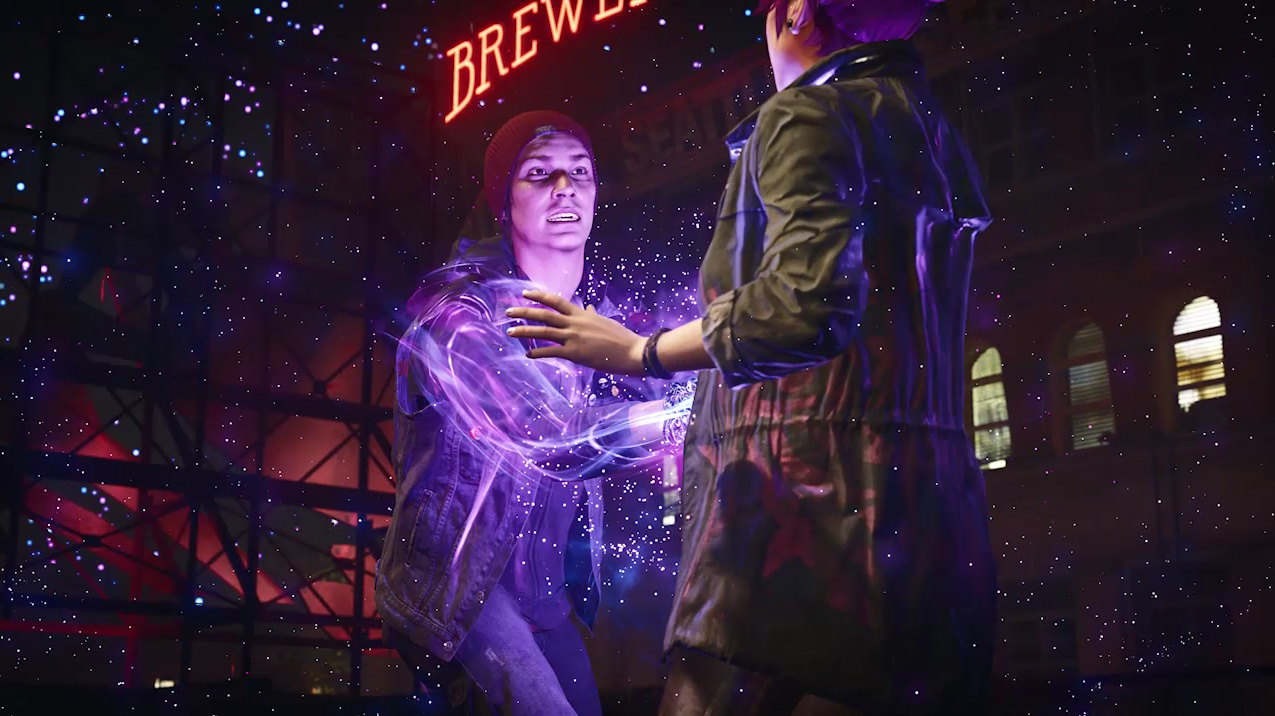 Second Son's Seattle is not completely destructible, but your powers definitely allow for destruction. The D.U.P has set up mobile command centers and conduit gene fingerprint scanners throughout the city. Anything with D.U.P. on it is able to be blown to bits. Destroying finger scanners reward you with blast shards, which are the games currency for upgrading each of your powers. The mobile command centers are areas with a concentration of D.U.P. agents, once they are taken out the D.U.P. loses a considerable amount of control over that district of the map. This also shows where all the side missions and blast shards can be located in that district.
Side missions essentially boil down to doing the same four activities in each district of the game. You'll shoot down a hidden camera, find an audio log, chase a secret D.U.P agent, or tag the walls of structures with graffiti. They are a complete bore after the third or fourth time, and unfortunately are the only way to lower the D.U.P's control over that district. With the exception of spray painting, which is done through some clever controller mechanics. Each piece of graffiti is unique,as you can choose to either create a "good" or "evil" piece of art, and some of them are actually really cool to see.  Once the control percentage has dropped enough in a district, you can do a "District Showdown" which involves either eliminating enemies or helicopters.That's about it.
Enemy variety just isn't there, you're either fighting D.U.P. agents, D.U.P agents with powers (they only ever use one kind of power), or drug dealers. I'm okay with the idea that Delsin is taking on a government agency, and that they are the most common enemy. But as fun as it was to use the diverse powers against them, it would have been cool to fight a number of them with diverse powers myself.
Whether it's good or bad, the game doesn't overstay its welcome, so the tedium never really dragged down my experience. In my first play through, doing 100% of everything as a True Hero, it took me around 12 hours to complete. There end up being not very many story missions, if some of them weren't gated by you having not taken out a command center, the game could probably be completed much faster.
As with the first two InFamous titles, karma plays a big part of the game. Well,  it wants to. You can either play an evil or good version of the game depending on the side missions you do and the sparse number of story options you can pick during cut-scenes. The problem with the story options are their binary nature. You're either the hero, or a complete bastard. There is absolutely no ambiguity in any of those decisions. Even in game play you're either saving people and busting drug dealers, or straight up terrorizing citizens.
Depending on those choices, cut-scenes will play out differently, and you'll get a different ending. Second Son's story is focused, and straightforward. I wasn't shocked by anything, there was no twist that left me jaw dropped. The story was good, I enjoyed it. It just didn't blow me away. The writing on the other hand is where the game shines. The characters are realized, I cared about Delsin, I cared about his brother. The character's interactions are all handled so well, it's just a shame the game's narrative wasn't as interesting.
So, Basically:
InFamous: Second Son is not game changer. I don't believe it will shift action games in a new direction. But maybe that's not what Sucker Punch set out to do when developing this game. Maybe they weren't trying to push any boundaries,or break new ground. Maybe they just wanted to make game that looks really god damn good, and is a hell of a lot of fun to play. If so, they succeeded.